Printing pure white on dark colours with no bleed! Watch the video!
One of the major challenges when screen printing white ink is the problem of bleed when printing on dark garments. Whether its direct screen printing or using screen printed heat transfers keeping the result pure white can be elusive. And printing on red is usually the worst!
For direct screen printing the usual solution is to hit the garment with your white print, flash it, and then hit it again. That's a bunch of extra work and you end up with a really thick layer of ink. If you are printing lightweight garments, such as t-shirts, it can be a bit nasty!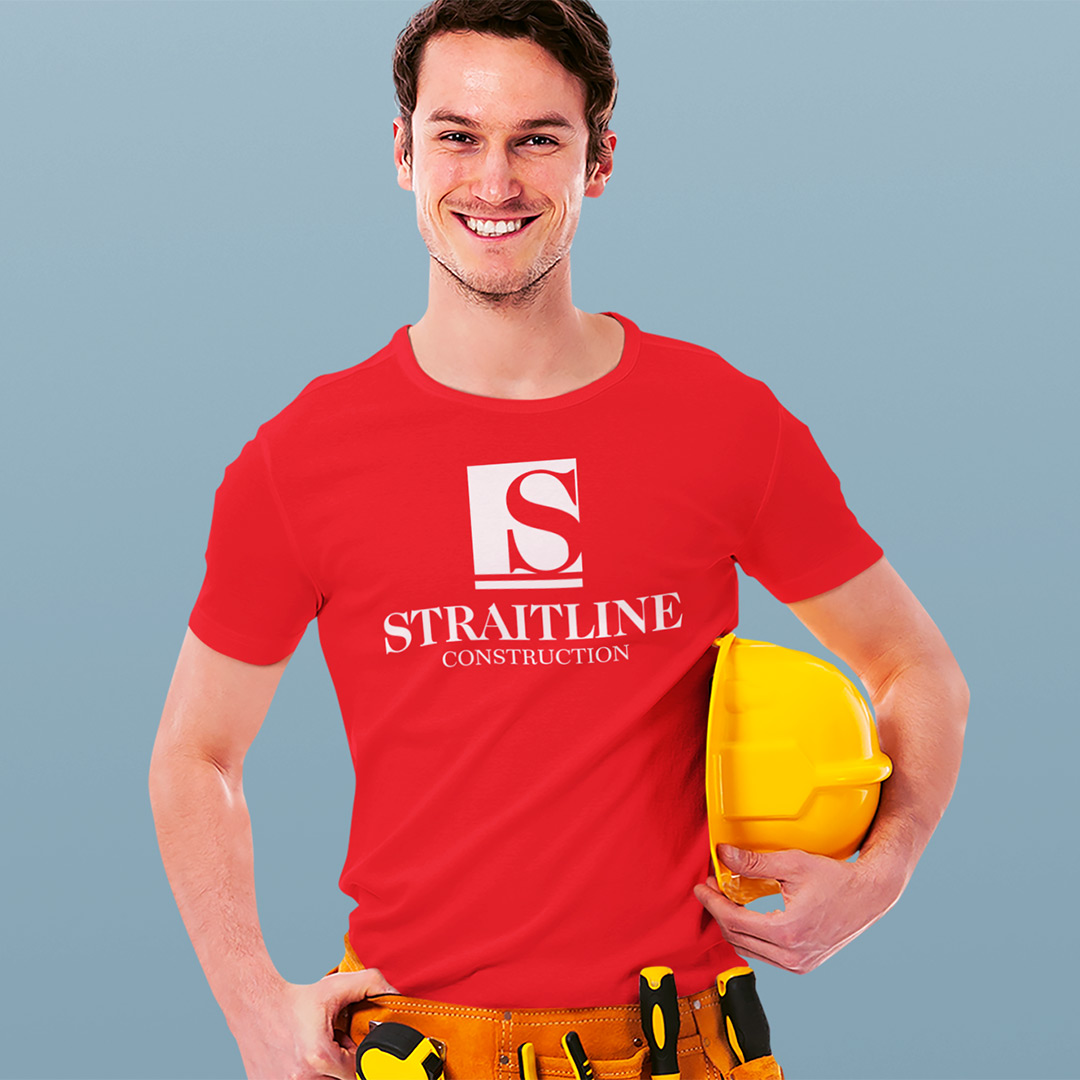 Using our "poly-print" transfers on regular 100% cotton or poly/cotton is one solution. The result is a pure white print, even on red garments, and it does not have a thickness or stiffness that can be undesirable. And its a lot easier than using vinyl, which can also produce an undesirable result in terms of the hand of the print.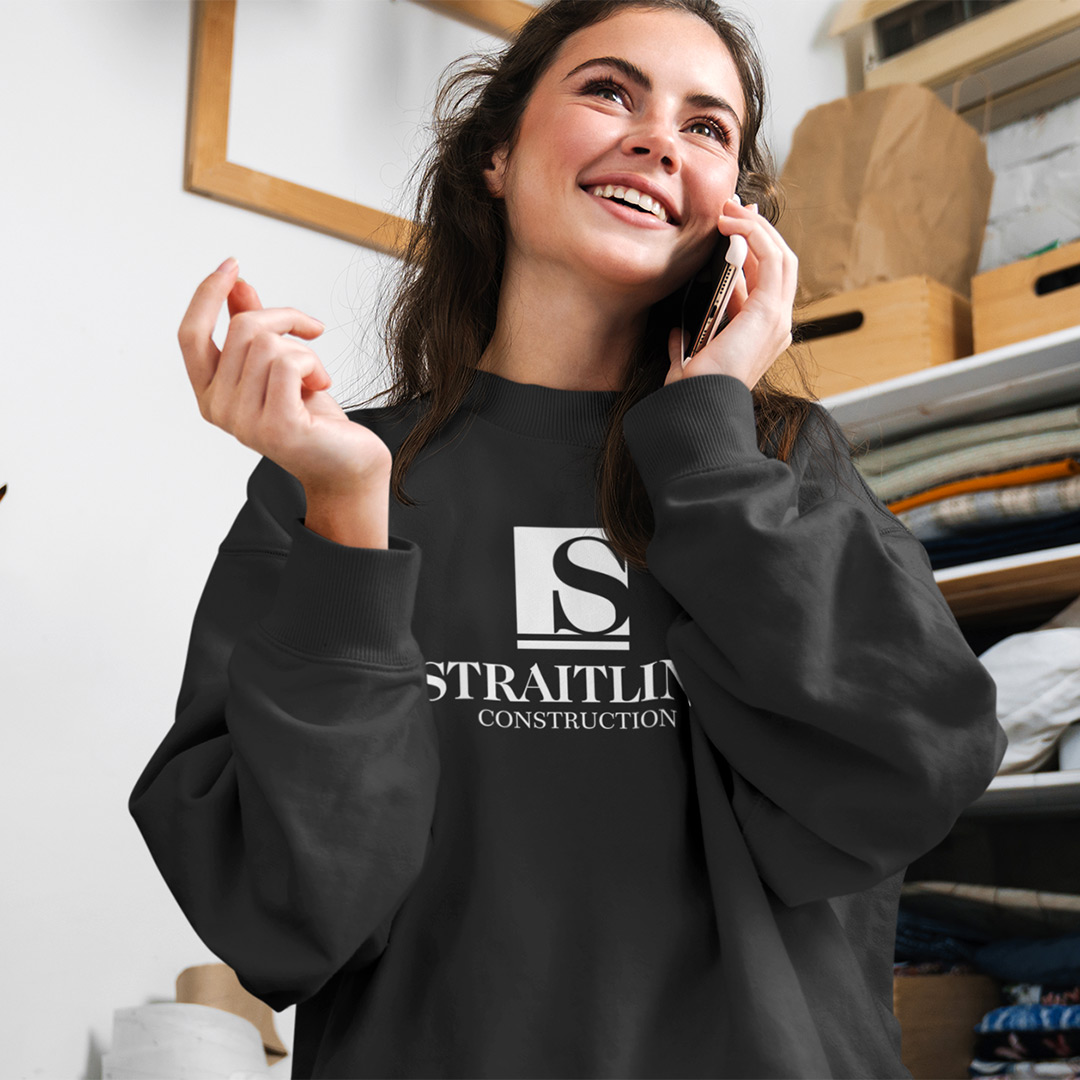 If you haven't tries our poly-print transfers to solve your bleed issues why not request a sample pack and give them a try. You'll be surprised at the result.
Screen printing tye-dye? Its easy with hot-split transfers! Watch the video!
If you think tie-dye originated in the 70's ... think again. While it did become super popular during the hippy era, it's roots goes back to ancient times. And while tie-dye's popularity comes and goes, it never really goes out of style.
Now, once again, it making a great comeback, particularly in the decorating business where adding screen printed graphics (logos, sayings, graphics, etc.) can end up producing amazing results.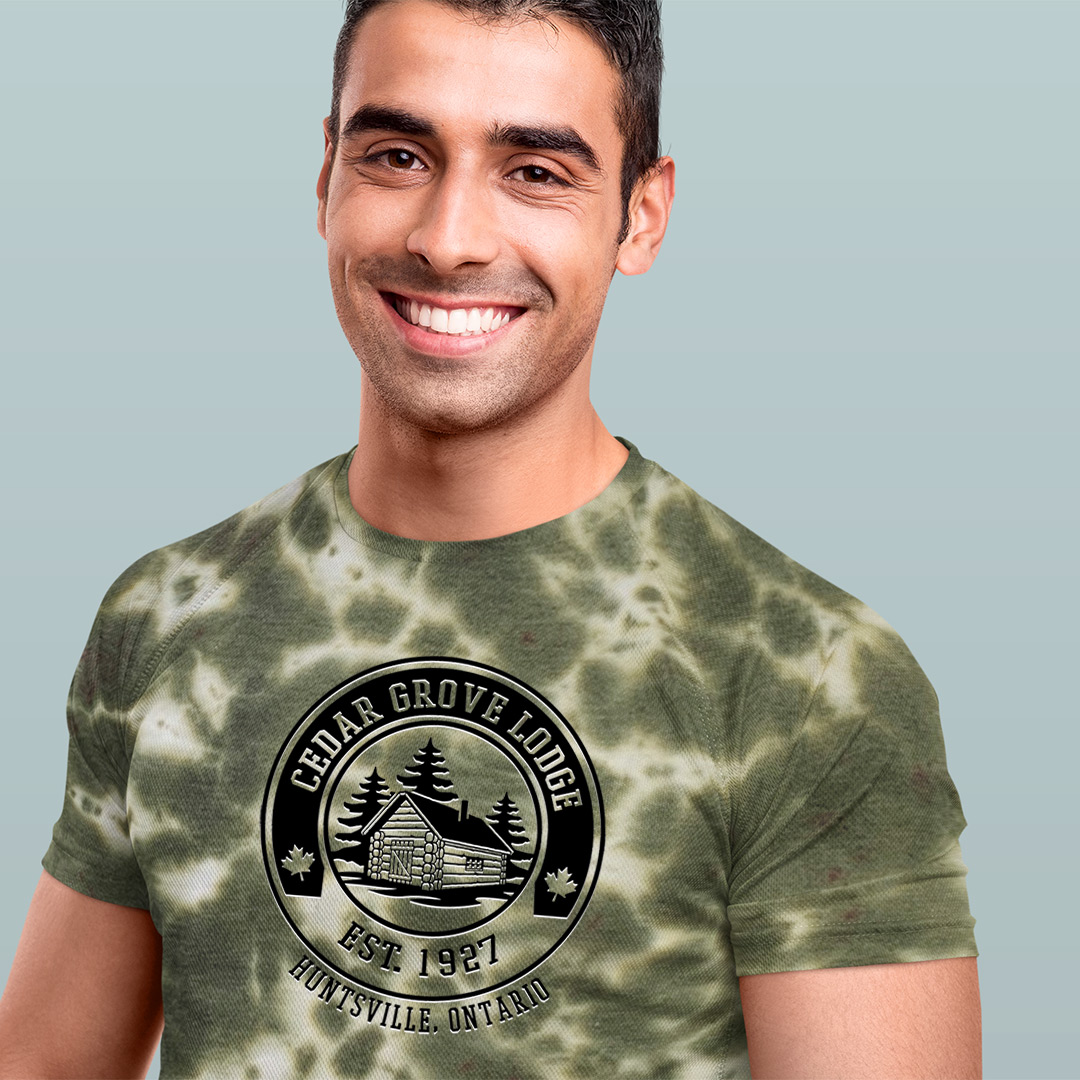 Adding a custom logo, like the one shown in the video, can create an extremely hi-value product because of it's unique and very dynamic look.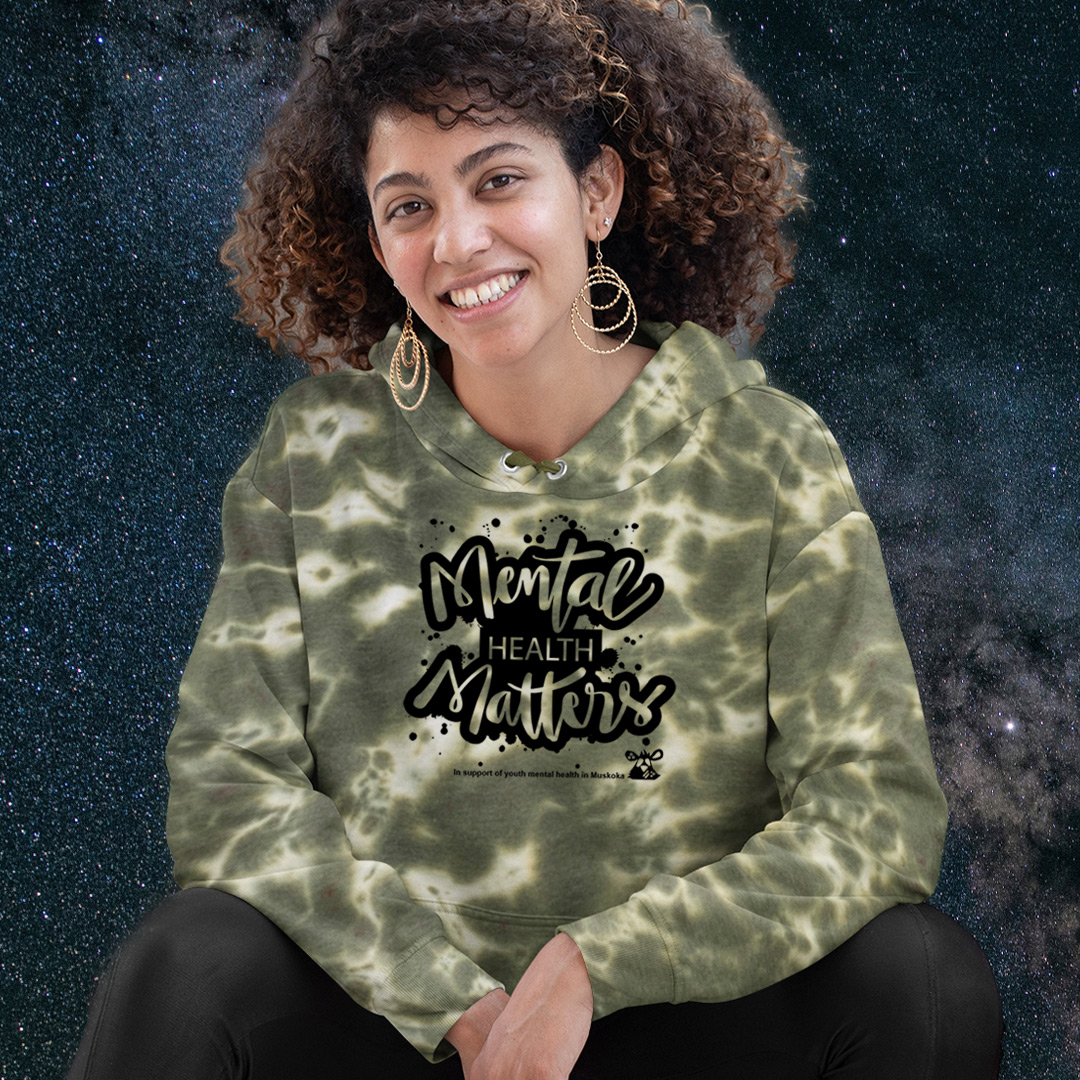 Tie-dyes makes an incredible canvas to print on. Simple designs that let the unique tie-dye pattern interact with them seem to produce the best results. Black ink is particularly strong on the tie-dye ... and black is a great colour to print with transfers.
If you think your projects could get a boost by introducing tie-dyes into your offerings, please contact us with any questions.
Screen printing t-shirts on your kitchen table? Is it even possible? Watch the video!
As someone who has been playing around with heat transfers for more than 40 years, I'm anxious to spread the word about what can be done with them ... and with very little investment! Did the "kitchen table" thing catch your attention?
Well, when you watch the video, obviously we didn't do it on an actual kitchen table! But we could have ... just as easily! The vintage heat press used in the video just plugs right into any ordinary 110v/1500amp socket.
That's it! There's no air compressor, ventilation, or special hydro needed. In 30 seconds you've got a 4-colour finished product that's every bit as good as any screen shop can do*. No ink! No mess! No cleanup!
The point is that, using heat transfers and a simple heat press, you actually could do screen printing jobs right on your kitchen table, or in your basement. Now, I'm sure your family would no doubt prefer that you set something like this up in the basement or garage ... not the kitchen. But you get what I'm saying!
So ... say that you're a young entrepreneur with all kinds of great ideas for printed tees and sweaters. You think you could sell lots online, but you have to get them printed! Printers will only take orders with some decent sized minimums ... otherwise you're paying more that you can sell for! Oops ... that won't work! DTG printers costs thousands and the cost of the print can be very high? Could printing as needed with a heat press work for you?
Or maybe you're an embroidery shop, and you're already in contact with hundreds of potential screen print customers every month. Every week you get asked about small to medium screen print jobs ... a couple of dozen tees ... a few hoodies ... even as low as 12! You can't get a screen printer to do it. Setting up your own shop costs (tens of) thousands of dollars. So you watch them walk away ... nothing you can do! Or is there?
What if you're a specialty wholesale shop? Dealing with a niche market ... say selling winemaking supplies to winemaking shops all across the country. Could you add a line of "wine lovers" t-shirts that you could print in house as needed. If your customers could buy them as needed along with their regular supplies could that be an extra profit centre for you, and them?
What about special events? Did you know you can take a heat press and set it up at events, tournaments, concerts ... and sell shirts that pertain to that event. Just print them as needed. The shirts you don't print are good for the next time.
Question: If you can print 100 t-shirts per hour, and you make $5.00 profit on each t-shirt ... does that mean you're making $500/hr? Answer: Yes!
Have I got you thinking? If you're curious see my offer for a free sample* t-shirt below.
Printing with heat transfers starts with the heat press machine. Check out my blog on what kind of machines you should and shouldn't be considering. We don't sell machines, so I'll give you my un-varnished opinions and my reasons why. If any of you experienced heat pressers out there have found your favorite press email me about it. We can share the info through the blog.
*If you haven't experienced the printing quality of heat transfers email me a request and I'll send you a free t-shirt printed with a heat transfer and you can examine it up close ... "put it through the wringer" as they say. Now this offer is not for our existing customers ... you already know about this stuff (lol).
About the heat press. We picked up this rare, vintage (Canadian Made) beauty for $300 a few years ago. It had been in storage for many years, but had been well cared for, virtually unused and still is pretty well in showroom condition. This is about as basic as it gets for a heat press, and as you can see this one does a great job printing t-shirts. We use it for sampling the quality of our custom transfers before we ship. Your chances of finding something like this at this price are low, but they are out there! Hey, you may even have one yourself! Let's get it out of storage.
Looking for a heat press? What kind of machine is right for you?
Ok ... so you think there might be an opportunity to print garments using heat transfers. And you're going to investigate getting a heat machine. And since success printing garments with heat transfers starts with the machine here are a few things to consider...
First of all, there are many heat presses sitting in storage or unused at the back of various shops ... moth-balled as a result of the failure to achieve a high quality result. Chances are they are "cheap" machines ... barely good enough for hobby use. Or, like anything, there's a learning curve and sometimes we don't stick it out. Watch my video (above) ... that press does a great job and it's as simple and basic as you can get!
Here's a great page about best practices for achieving great success with heat presses at TransferPaperCanda. Click Here and take a few moments to read it.
There are a couple of different types of heat machines in wide use - the very popular "clam" (see the Hix video), and the higher production "piston-type" that presses the heat element straight down from the top ... like the Insta machines. To see the Geo. Knight lineup of heat machines at TransferPaperCanada Click Here. These guys have been around for years in the garment decorating industry and are highly respected for equipment sales and follow-up service.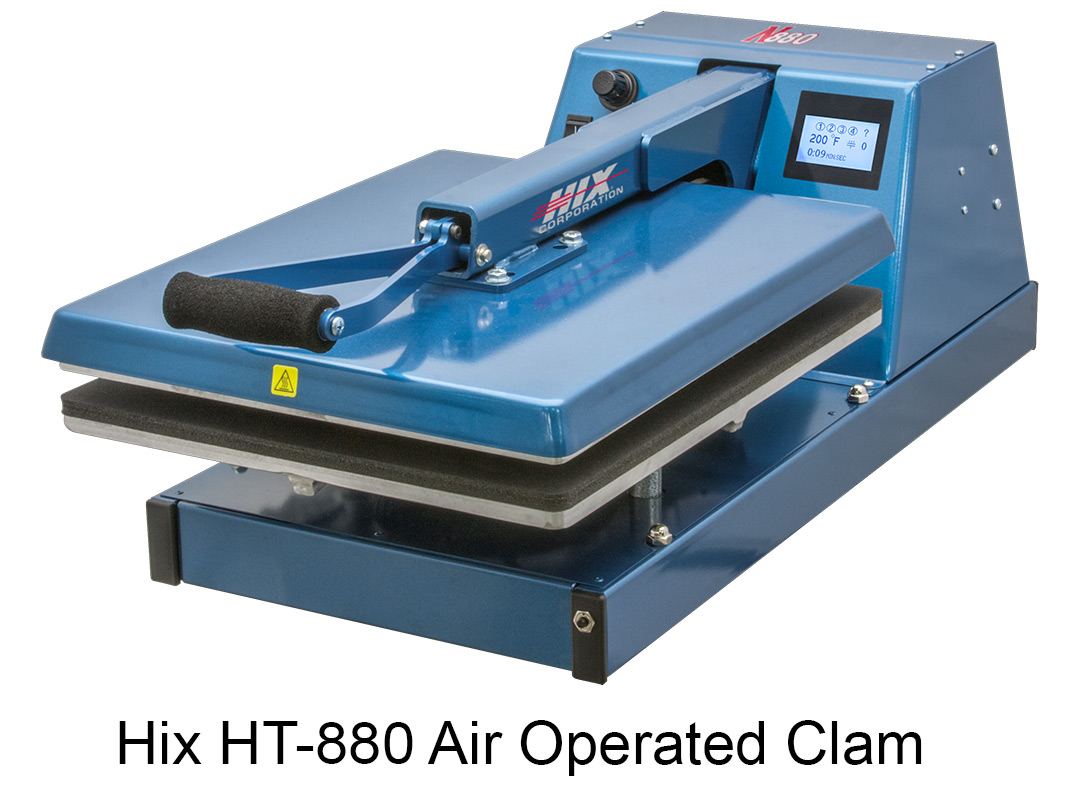 So ... what kind of production are you considering? If you're going to do a "few" smaller orders now and then a basic manual machine will do the trick. For example the HIX HT400 press (or equivalent) is a good choice at about $1,000. If you will be pressing larger orders on a more frequent basis than an air-assisted machine like the HIX N-880 (or equivalent) is what you'll need at about $4,000. And if you will be doing seriously big runs expect to pay $6,000 or more for something like the INSTA 828 16x20.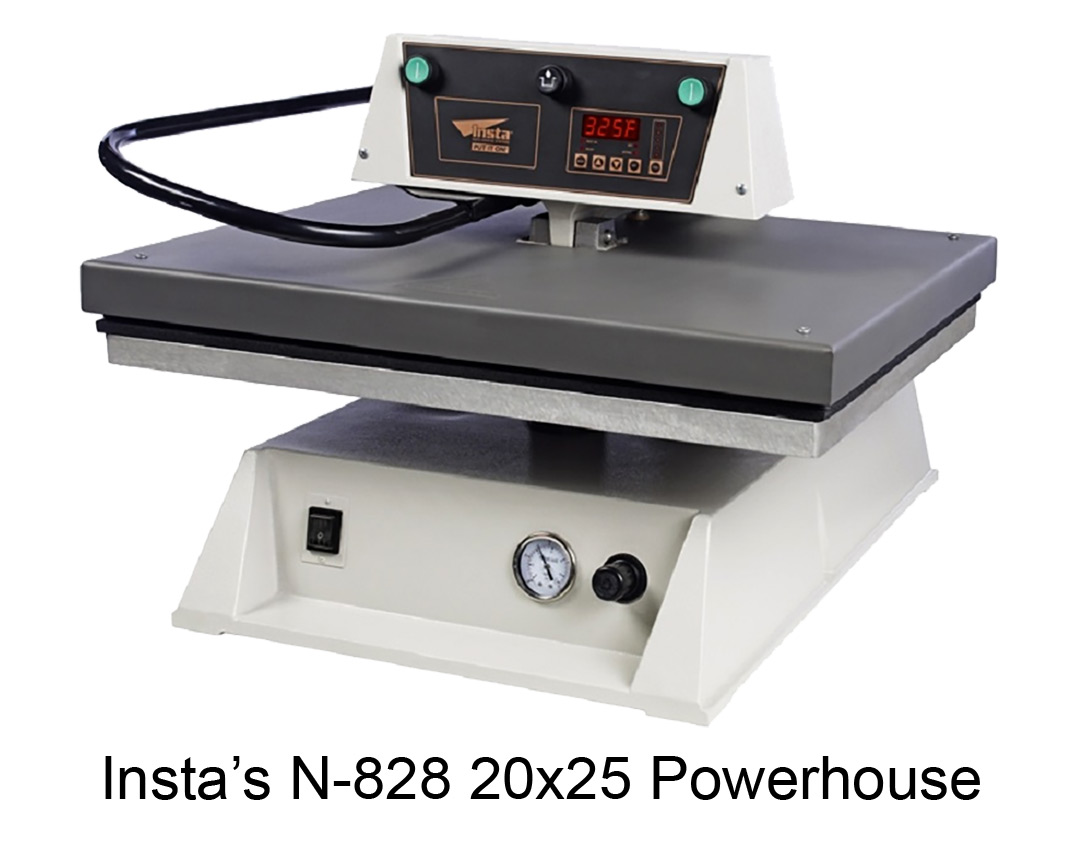 By the way ... I'm not recommending any of these particular machines, but these companies are solid and they've been around in this industry for decades. Use these as a reference point.
The first place to look if for a used machine. There's always a few on eBay or Kijiji. You could very well score a great deal, but make sure it's a good brand. I would go for a USA-made unit, and avoid the cheaper machines that are usually made overseas. Remember, it all starts with your machine!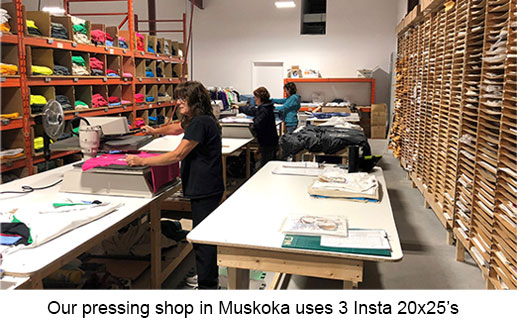 Again ... If any of you experienced heat pressers out there have found your favorite press email me about it. We can share the info through the blog.